Dear Dr. Eisenberg,
I got married in May 2008, and as I reflect back on old photos, I cannot imagine the old self-conscious, flat-chested me wearing my strapless, sweetheart neckline gown. My dress was perfect and I couldn't have worn it without your work. I can't thank you enough for giving me the chance to choose any gown I wanted for my wedding day." – Angela
Like Angela, many women come in for a breast augmentation consultation before their wedding: They want to be able to wear the dress of their dreams on wedding day and not be limited because of their cup size. They've read sites like TheKnot.com's Neckline Glossary, which explains that Strapless is bad for "smaller chested women" and Sweetheart is bad for "the décolletage-impaired." What should they buy? The Jewel ("a t-shirt neckline that sits at the base of the throat") or the Sabrina ("cut straight across so less of the décolletage shows"), the site suggests.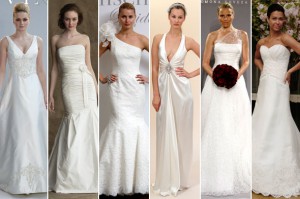 It's not surprising that my patients include a lot of brides-to-be, who want to go bigger before their big day. In the United States in 2012, the average age for women to marry was 27. About half of my patients are in their early 20s; the rest are in their 30s and are coming to me post-childbirth to recapture what they lost after pregnancy.
Often, these prospective brides have been considering breast enhancement surgery for years, and their wedding provides the impetus. They are no different from the vast majority of my patients, who tell me they want to look proportional and have their clothes fit better.
After all, what clothing is more important than a wedding gown? Women know that on their wedding day, all eyes will be focused on them and more pictures will be taken than on any other single day of their life. And it won't hurt to look great in a bikini on their honeymoon, either.
PLANNING AHEAD
While you can get your hair and makeup done the morning of your wedding, you need to plan way ahead for cosmetic breast surgery.
Wedding Planning Calendars tell you when to reserve the date, pick your bridal party, meet with the caterer, and order your gown (usually 8-10 months out.) The calendars don't tell you when to schedule your breast augmentation surgery, so I will!
Ideally, you should pencil in "Have cosmetic breast surgery" in the "12 Months Before" category on your calendar. That way, you'll be ready for your wedding gown-shopping trip about two months later. You'll need that much time to heal in order to get a true fit on your gown.
That's because when breast implants – especially saline – are placed under the pectoral muscle, the muscle presses the implant flat, as your hand would compress a sponge ball or a balloon, and the implant needs a place to go. It moves toward the area of least resistance – the collarbone and the armpit – which is why the implants are up high right after surgery. They begin to settle down in about 6-8 weeks.
Having your surgery a year before your wedding is ideal, but if you can't plan that far ahead, you could schedule surgery anywhere up to about four months before the wedding. That way, you'll be able to get your gown's bodice adjusted at the fitting, which is usually done about 6-8 weeks before the ceremony. This will also give you plenty of time to heal before your honeymoon, so you'll be ready for swimming and other activities.
Looking Your Best
In 1991, I was doing reconstructive surgery, I treated a patient who had lost an eye to cancer when she was a child. She wore eye patches for years to conceal the damage caused by the radiation treatment. Her wedding was approaching, and she wanted to walk down the aisle – and be photographed – with two eyes. In a series of three procedures, I used a new technique to implant an artificial eye prosthesis in her contracted eye socket. I was a guest at the wedding and was asked to make a toast. It was an honor.