In The 

Med

ia

VIDEO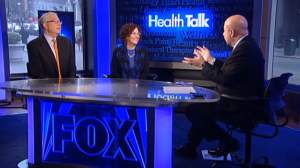 Dr. Manny Alvarez, senior managing editor of Fox News' Health Channel, interviewed Dr. Ted and Joyce in the New York Studio on the topic of "What you need to know about breast implants." Click here to watch the video and read the accompanying article.
Dr. Ted and Joyce were interviewed by Pat Ciarrochi, the host of Talk Philly, a CBS-3 TV show that airs at noon. They talked about the importance of breast health and mammograms and what women need to know. Watch the interview here.
They didn't win the Miss America pageant, but they got the booby prize! Cara McCollum, Miss New Jersey 2013 and a senior at Princeton University, talks to Ruth Weisberg, a former Miss Philadelphia, about why she decided to get a breast augmentation and why she chose Dr. Ted Eisenberg, author of The Scoop on Breasts to do it. Watch the interview here.
For her TV show, "Storytime and Show 'n Tell With Miss Ruth," host Ruth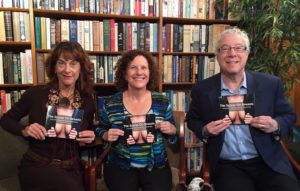 Weisberg interviewed Dr. Ted and Joyce about cosmetic breast surgery myths, their inspiration for writing The Scoop On Breasts and their hobby of knife and tomahawk throwing. Find out what qualities are needed by both a hall of fame knife thrower and a plastic surgeon: Click here to watch the show.
RADIO
Jay Thomas got the inside scoop on breasts from the authors, who were guests on The Jay Thomas Show, a national show which airs on Sirius XM. An actor and comedian, Jay portrayed hockey player Eddie Lebec on Cheers and was a two-time Emmy Award winner for his role as Jerry Gold on Murphy Brown.
Dr. Eisenberg was a guest on The Tiffany Granath Show, Playboy Radio's most popular talk show. Tiffany interviewed him about bras, breasts and how he came to write The Scoop On Breasts.
Chio, host of the top-rated Chio in the Morning show on Philadelphia's Mix 106.1 radio, interviewed Dr. Ted to bust the myths about breast implant durability, breastfeeding, breast lifts, and more.
Dr. Ted and Joyce (center) were guests on WWDB-AM, a Philadelphia talk radio station. Patients Ruth Weisberg (right) and Kat Homnack (left) joined them in the studio to give "Bare This & That" host Cynthia DeLeonardo the scoop on breasts during her one-hour live interview show. Click here to listen to the interview
Carla Collins, known as "The Canadian Tiny Fey," invited Dr. Eisenberg to be a guest on her talk show: Speak Easy With Carla Collins, which is broadcast on SiriusXM radio in Canada. She asked lots of questions – both funny and serious ones  – about breast augmentation and The Scoop on Breasts.
Dr. Eisenberg was featured on Money for Lunch, a national talk radio show hosted by Bert Martinez. Listen to the segment here. Joyce was a guest on Los Angeles radio station KFWB and on the Modern Media show on PWRTalk Radio. The hosts wanted to who gets breast augmentation surgery – and why! Kathryn Raaker, host of Let's Just Talk, a nationally syndicated radio show, interviewed the authors together to get the scoop on breasts and breast implants.
PRINT

When he's not performing cosmetic breast surgery, Scoop on Breasts author Dr. Ted throws knives as a hobby. At the 2017 U.S. Nationals Pro/Am Knife & Tomahawk Championships in Las Vegas, he was interviewed. Read the Las Vegas Review-Journal article here. His wife, knife-throwing sidekick and co-author, Joyce, wrote about his talent with knives – out of the operating room – for a Philadelphia newspaper. Click here to read "Game of Throws."
SILIKON MELELEH? (Silicone Melt?) An Indonesian woman who is in prison for money laundering and fraud was recently taken to the hospital for surgery because her silicone breast implants had allegedly melted. Wanting to know if this could be true, Indonesian reporters googled the topic, found the answer in The Scoop on Breasts, and featured Dr. Ted and the book in their articles. Read our blog post on the topic here. 
"Implantes Senos Mitos" (Breast Implant Myths): The HuffPost featured "The Scoop on Breasts" in its Spanish edition. Click here to read the article.
Hollywood Today reported that when actress Jennifer Lawrence worried that her breasts were uneven, Dr. Ted Eisenberg had an answer for her. Click here to read the article. In the newsmagazine's article entitled "Expert Talks Breasts and Angelina Jolie," the go-to expert was Dr. Ted.
"The Breast Sort of Book": Joyce Eisenberg wrote a feature story about life with a "breast man" – Dr. Ted – and the writing of The Scoop on Breasts for the Jewish Exponent, a Philadelphia newspaper. Click here to read the article.
Keystone Edge, a publication that focuses on Pennsylvania entrepreneurs, interviewed Dr. Eisenberg for its Founders column. Click here to read the article.
A MUST-HAVE GIFT
EdenKnowsImplants.com featured The Scoop on Breasts as one of its "28 Gifts for Your Girls" – a list of must-have gifts for women with breast implants. It was the sole book on the list. Jenny Eden wrote, "There have been a lot of books written by surgeons about breast augmentation, and The Scoop on Breasts is definitely my favorite so far. It's approachable and down-to-earth . . ."
When the British website www.LetsTalkBreasts.co.uk hosted a Twitter competition, contest winners got a brand new copy of The Scoop on Breasts.

BREAST CANCER AWARENESS
In conjunction with National Breast Cancer Awareness Month, Dr. Ted and Joyce did a book signing for The Scoop on Breasts at two Philadelphia area Barnes & Noble stores. 
Dr. Eisenberg was the subject of a story entitled "For One Philadelphia Plastic Surgeon, Breast Cancer Awareness Came Early," which appeared in publications nationwide. It  described how his decision to be a  plastic and reconstructive surgeon was inspired in part by Joyce's loss of her mother to breast cancer when Joyce was 8 years old.
THE AWARDS
Dr. Ted and Joyce Eisenberg attended ceremonies hosted by the Next Generation Indie Book Awards and the Independent Publisher Book Awards to collect their five medals for The Scoop on Breasts in the categories of Humor, Women's Issues, Best Overall Design and Health/Wellness. They were invited to give an acceptance speech for their Grand Prize in Non-Fiction/Second Place. (Notice that the book looks fabulous even when it's upside down.) The following day, they hosted a "meet and greet" and book signing at BookExpo America in the Jacob Javitz Center.
After The Scoop on Breasts won a gold medal in Humor at the Independent Publisher Book Awards ceremony, Marc Greece of A&E got the inside scoop from the authors. 
THE SCOOP GOES TO HOLLYWOOD
The Scoop on Breasts went to Hollywood! Its authors were invited to gift the book to celebrities at the GBK Oscars Gifting Suite. Read all about it! Watch a short video.
THE SCOOP ON BREASTS IS LAUNCHED!


Irina and Rob Mitchell, owners of Kaleidoscope Boutique in Philadelphia, hosted a party to celebrate the publication of The Scoop on Breasts: A Plastic Surgeon Busts the Myths. The event was featured in the Spring 2013 issue of Philadelphia Style.
Sean Murphy, a reporter for CBS 3 TV, interviewed Dr. Ted, aka "The Boobinator," for a feature about his unique hobby. It aired on television on July 31, 2009.