By Dr. Ted
People experience pain differently – some are more sensitive than others, and according to an article on WebMD.com, both biological and psychological factors are at play.
After performing thousands of breast augmentations, talking with women at their first postoperative visit, and reviewing the results of a patient questionnaire that asks them to rate their level of pain/discomfort on the first few days after surgery, I've discovered that women usually describe the feeling as discomfort, not pain.
For three days after surgery, on average, women who have had children tell me that they feel like they did when their breasts were fully engorged with milk after childbirth. During recovery, women who haven't had children describe the feeling as tightness, burning or pressure. The discomfort usually starts to ease up significantly on the fourth day after surgery. About 90 percent of my patients say they are comfortable enough to return to work in an office setting on the fifth day after surgery.
I prescribe medications to make patients more comfortable during the recovery period. These include a narcotic, muscle relaxant and anti-inflammatory. While some women take all three as prescribed, others might just take the anti-inflammatory and an occasional pain pill. They might take the muscle relaxant to help them sleep at night.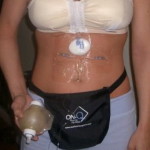 In addition to oral medications, some surgeons also give their patients a pain pump. They will insert a catheter (a small tube) near the surgery site at the end of the procedure. The tube is attached to a pump that automatically and continuously delivers a local anesthetic for several days after surgery.
I'm not a fan of the pain pump for the following reasons:
It can act as an entrance site for bacteria.
The patient can't increase the pump's rate because too much medication would be toxic.
When the patient sleeps, she has to be careful that the device isn't under the covers or on the floor, because the tube could be pulled out.
The catheter site and pump have to be protected from water, making showering more difficult.
The device has to be removed at a post-op visit.
Most importantly, I find that post-op discomfort can be managed well with oral medications.
Women who must use their arms to lift, push or pull (such as nurses, hairstylists or waitresses) normally return to work toward the end of the second week, around the 14th day after surgery. Although they may experience a little discomfort, they manage and are fully good to go by the third week.
Titbit: Researchers report that redheads, smokers, and people who are obese report more pain. Also, depression and anxiety can make someone more sensitive to pain.