How saggy is saggy enough to need a breast lift?
By Dr. Ted
"My husband said, 'Show me your boobs,' and I had to pull up my skirt, so it was time to get them done!" – Dolly Parton
Are you wondering if you are a candidate for a breast lift with or without implants? Try this at home:
1) The Pencil Test: Take off your bra and look in the mirror. Place a pencil horizontally along the crease under your breast, where your bra band would rest. Where does the nipple itself – not your areola – rest in relation to the pencil?
 a. below
 b. at
 c. above
2) Put on your bra and take another look in the mirror. When your bra lifts your breasts, are you:
 a. satisfied with their size
 b. wish they were bigger
At a breast surgery consultation, the doctor will take measurements – without a pencil – to help you determine the right choice for you, but here is some information to get you started.
1a. If your nipple hangs below the pencil, your breasts would be considered moderately to severely ptotic (or droopy) and you would be a candidate for a breast lift, which would raise and reshape the breasts.
1b. If your nipple is at the crease and your breasts are mildly ptotic, it's a borderline situation.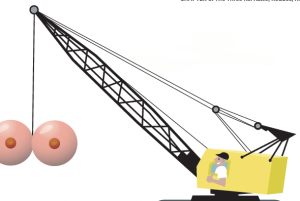 If you want a more natural look, you could consider breast implants alone. A saline or silicone gel implant placed behind the pectoral muscle might help create the illusion of perkiness. When the implant fills out the upper portion of the breast, it also fills out the bottom portion, which makes it look like the nipple is located higher on the breast. If you took out a ruler and measured, you would see that the nipple hasn't moved; it is still in the same place.
If you want your breasts to be higher and perkier, a breast lift might be the better option, because during that surgery, the nipple is moved to a higher position and excess skin is removed.
1c. If your nipple is above the crease, relax. You are probably not a candidate for breast lift surgery. Use some of the money you save for some new, uplifting bras.
Lift and Implants?
2a. If you are satisfied with the size of your breasts, a breast lift alone may be the right procedure for you.
2b. If you want more breast volume, you could consider a breast lift and implants (an augmentation mastopexy).
While some doctors prefer to do two separate operations – the lift first followed a few months later by the augmentation, others perform both procedures at the same time (simultaneous augmentation mastopexy). Having one surgery rather than two reduces the time that you are in the operating room and under anesthesia. It is a safe operation that takes about 3-1/2 hours.
Prefer to take things into your own hands. Some women choose breast lift tape, and others have been known to try duct tape!
Other things to know:
If your breasts are moderately to severely droopy and you get implants, you could develop the appearance of four breasts, with your breast implants up high and your natural breasts down low. Not a good look.
After a lift, your breasts will be the same size as they were before, because only excess, stretched skin is removed during a breast lift; no breast tissue is taken away. You'll look exactly how you look before surgery when you are wearing a good bra.